Looking for a REAL Wealthy Affiliate Review? Unfortunately Most "Reviews" You'll read aren't honest, that's why I give a No-B. S look at what you can expect!
WEALTHY AFFILIATE
Most reviews of Wealthy Affiliate promise you the world if you buy it. This is NOT one of those reviews. In fact, it might actually hurt your feelings. But if you want the REAL scoop on Wealthy Affiliate – keep reading.
Click here to learn more about Wealthy Affiliate
Effectiveness
4.5/5
A mixed bag of good advice and outdated advice.
Value
4.5/5
Monthly costs can add up, but website hosting is included and training is constantly being updated.
Ease Of Use
4.5/5
Not very easy to navigate, and a lot of training is text based instead of video.
Support
4.5/5
Active community and lots of support available from WA staff and other WA members. But not all of it is quality.
What I Liked
All in one solution – website hosting comes with affiliate training
New webinars are released every month
Comes with a free 7-day trial
What I Didn't Like
Monthly costs can add up
Can be difficult to navigate, starting to look dated
Doesn't talk in-depth about some MOST important elements of affiliate marketing
Basic training modules need a major overhaul
Updated September 20, 2019: Another day, another Wealthy Affiliate review… If you have been looking for ways to make money online, I am sure you have come across one of the thousands of Wealthy Affiliate reviews that recommend it as the #1 way to make money online….
*Please note this article contains affiliate links
Well, this is one Wealthy Affiliate review that ISN'T going to say that it is the best way to make money online. To find out why, keep reading…
MY STORY BEFORE WEALTHY AFFILIATE
My name is John, I am in my 30's and before a couple years ago I knew NOTHING about affiliate marketing. I was in a job that I didn't like, was $20,000 in debt and has a wedding that I needed to pay for. You can read more about me here.
Today I run dozens of websites, some profitable, some not so profitable – but after few trials and errors, I make thousands of dollars a month from affiliate websites.
That's not because I don't think it is a good program, but because I have high expectations for affiliate marketing courses – especially because I have taken so many. I know what it is like not to have a lot of money but to take a risk and buy something online. That's why I take giving honest reviews seriously.
I started my affiliate marketing journey back in 2016. I took a course called affiliate marketing revolution and I though I had it all figured out.
"Man this stuff looks easy" I thought
"I am going to make a killing!"
Flashes of working on the beach and driving fancy cars rolled through my imagination.
I then came up with a catchy (at least I thought) alter ego, and purchased my first domain and got to work!
At first, I didn't know what the heck I was doing, I did some review blog posts, posted some YouTube videos and hoped for the best!
My blog struggled – I got no traffic. I was stuck!
So I bought another course, Deadbeat Super Affiliate.
I learned a bit more, but the course was pretty out dated. But I learned the importance of links to ranking in Google and I purchased some cheap Fiverr links.
Still nothing…
I knew heard about Wealthy Affiliate before, but I read a bunch of negative reviews on it so I wrote it off as a scam.
But I was desperate and had already taken some terrible affiliate marketing courses on Udemy. So I bought Wealthy Affiliate and gave it a spin.
Even though I wasn't a total newbie, I found a lot of things very useful. Understanding the customer purchasing life cycle, writing great content, keyword research, on page SEO and the Jaxxy keyword research tool are just some things that helped me propel my affiliate websites.
I just wished I started with Wealthy Affiliate from the beginners. Especially since website hosting is included in the package, it could have reduced both my costs and my learning curve from the start.
KEY TAKE AWAY
Being successful in affiliate marketing requires persistence and a willingness to learn. I could have easily given up at the beginning when I had spent a bunch of time and money and was not seeing any results.
I knew money could be made doing affiliate marketing, so it was up to me to find out what tools I was missing.
Being successful in anything is an ongoing process, so if you think that you will learn everything all in one spot – you have to be more realistic.
I watched YouTube videos, joined Facebook groups and kept taking courses. Slowly, I started getting small wins, and those small wins became big wins.
THINGS TO CONSIDER WHEN BUYING AN AFFILIATE MARKETING COURSE
Deciding on which affiliate marketing course to take is a pretty big decision. Getting started on the wrong foot can lead to wasted time, money and motivation.
However, taking a good affiliate marketing course can cut down dramatically on the learning curve of building your own website. There is only so much you can learn from watching YouTube videos, it is hard to know if what you learn is even correct.
Becoming a good affiliate marketing requires quite a bit of time and commitment to become good at. So if you are one of the following, affiliate marketing is NOT for you:
Looking to get-rich-quick
Don't have some disposable income to invest
Don't have time / work too many jobs
Get discouraged easily
Hate to solve problem
You have to be 100% honest with yourself here, because the simple truth is affiliate marketing is not for everyone. However, if I haven't scared you off (yet) let's take a look at the things you need to consider when choosing an affiliate marketing course:
Basic SEO
If you are starting a website, it's important to have at least a basic understanding of SEO. This includes setting up a website, creating pages/posts, on-page optimization and keyword research.
Off-Page SEO
While on-page SEO is like the body of car, off-page SEO is like the engine. Without a solid foundation body, the entire site will fall apart. But with no off-page SEO, the beautiful website will just sit there going unnoticed. Despite what you might have heard, links in a rich content still are the big factors to get your site ranked high in Google.
Thing's to look out for when it comes to off-page SEO is what sort of tactics are being taught? Is it basic – such as opening social profiles, leaving blog comments and being active on forums?
Content Creation
Since links are becoming less relevant than they were before. Google is also getting better at detecting link building, so focusing on creating quality content is very important.
Some affiliate marketing courses skip this part altogether and focus mostly on off-page SEO. So this is an important factor to consider when choosing the right course for you.
What Tools Are Included / What Do You Need To Buy?
Before you drop big bucks on a course, it's important to know your costs ahead of time. Does the course come with all the tools you need, or are you going to have to dish out additional money every month for various subscription fees?
Some courses like Wealthy Affiliate try to be a one stop shop and include things like web hosting and access to their keyword research tool in their total cost. This could be a bonus if you are just starting out, but it might not even matter if you are already paying for hosting.
Social Media Marketing
The days when you could just rank a website and watch the cash roll in are still here and getting even better. While it is still very possible to do this, you could be leaving cash on the table by not having things such as en email list, or Facebook group set up so that people engage with your site even when they are not on it.
Community
Having access to a great community could be worth the price of admission alone. Course creator's that take pride in their work will be in their communities constantly try to drive engagement.
Some things to consider when choosing an affiliate marketing course are: Is the community active? Do experts help out, or is it a bunch of newbs pretending they're experts? Do the course creator(s) interact regularly?
I have learned that one sure sign of a bad course is seeing little to no interaction in their communities.
WEALTHY AFFILIATE SUCCESS STORIES
One of the reasons I like Wealthy Affiliate is because it got me started in the right direction when I was learning about affiliate marketing. So I consider myself to be a Wealthy Affiliate success story.
WHAT IS WEALTHY AFFILIATE UNIVERSITY (WA)?
Wealthy Affiliate is a combination of training, software and website hosting all in one package. It is meant to be a one-stop shop destination for people looking to get into affiliate marketing.
The big draw of being an affiliate marketer is that you don't have to actually manufacture the items you promote.
Instead, you'll be "partnering up" with a company and drive traffic to their products or services from your website. For each customer that goes through you and buys something, you get a commission.
But, before you go out and buy a yacht for that trip around the world, there's a lot of work to be done.
Now, I know what you're thinking. It the same thought process I go through whenever I hear claims of passive income…
IS WEALTHY AFFILIATE A SCAM?
Wealthy Affiliate doesn't make any bold promises in it is advertising. It simply promises to give you a host of tools and training helping get you started on starting on making an affiliate marketing business.
There's is lots to learn in order to be a successful affiliate marketing, from building up a website to SEO to selecting the right niche. Wealthy Affiliate gives you a blueprint and the tools you need to get started, but it's up to you to put in the time and effort to be successful.
The good news is that there's no limit to what you can do once you grasp the basic concepts of affiliate marketing.
BIG SECRET FOR WHY PEOPLE THINK WEALTHY AFFILIATE IS A SCAM…
The reason why people may think Wealthy Affiliate is a scam is that so many people promote Wealthy Affiliate as the #1 way to make money online!
You see, other inexperienced affiliate marketers think that the only way to promote something is by making it seem like it is the ABSOLUTE #1 BEST THING IN THE WORLD AND IT WILL 100% MAKE U RICH OVERNITE!
Sure that approach may get some people to buy, but in the end, it causes unrealistic expectations and it attracts the wrong people!
For me, I don't care if telling you that turns you off. If you want to get-rich-quick, DON'T BUY WEALTHY AFFILIATE!
Also, if you have 7 kids to take care, can't work and no money – FOR GOD SAKES DON'T BUY!
If it comes down to either getting Wealthy Affiliate or getting groceries for your kids – GET GROCERIES! Your kids will thank you later.
To be successful in affiliate marketing you're going to need some money.
Affiliate marketing takes time, effort and lots of learning – JUST LIKE ANY OTHER BUSINESS!
In short:Wealthy Affiliate is not a scam – but it is marketed by other affiliates as a get-rich-quick scheme – WHICH IT'S NOT!
WHAT'S INSIDE?
Let's take a look at what you can expect when you sign up to Wealthy Affiliate:
Activity Dashboard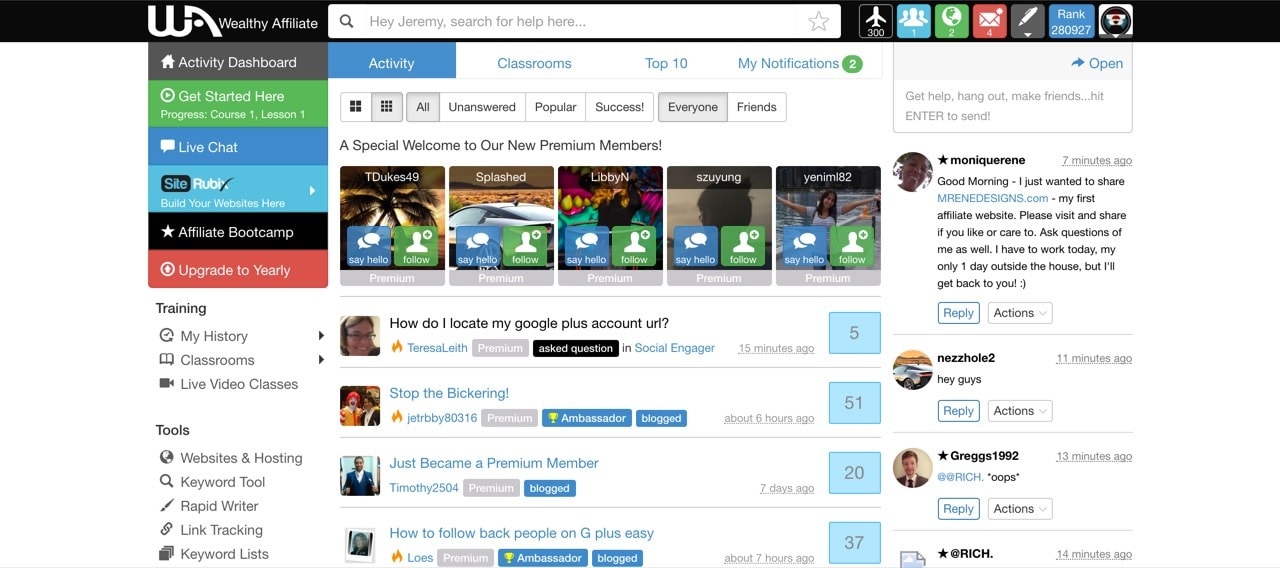 This section is most akin to a forum, where you can ask questions and get answers, but mostly get reassurance about what you're doing. At times, it will seem nothing you do brings about any results, and the most logical course would be to give up.
Instead, you should post in here and ask more experienced users for some encouragement or advice. This section of the website also has classrooms run by veteran users, which are simply forum threads centered around a particular topic.
The Certification Courses
Clicking the green "Get Started Here" button will open up an overlay with available courses. The learning process is very "simplified", as in, everything is made to give you a sense of accomplishment you would get from beating a video game level.
By doing certain "tasks", you progress through each course and then move on to the next. An important thing to note here is that you cannot fail these courses.
They are designed to give you some basic knowledge and encourage you to stay a member of Wealthy Affiliate, not beat you over the head with a compendium of knowledge that you need to absorb within a time limit.
For example, the very first task is to watch a tutorial video on how to use Wealthy Affiliate and the second is to add a profile picture. There is a lot of text involved in these lessons. And this very first lesson has around 1,200 words with only two videos. So you better get used to a lot of reading.
This emphasizes that you'll essentially be expected to do most of the learning on your own. You can also reach out for assistance from other community members.
Wealthy Affiliate Community
Wealthy Affiliate has a very activate and vibrant community. There are many people posting questions and some helpful people that try to answer those questions.
However, since there are so many people that are just beginners you sometimes run into a case of the blind leading the blind. So if you are asking questions in the community make sure that you take advice from people that know what they are talking about.
The Live Chat can quickly become quite hectic and is not recommended for any kind of detailed discussion as messages get pushed down the screen far too often.
Site Rubix – Wealthy Affiliate's Hosting Solution
Clicking this button will show you a few options related to making your own website. If you haven't made a website here yet, any option will lead you to a blue button marked "Build a New Website".
Clicking that will show three options: "On a free domain", "On a domain I own" and "Register a domain". Here you'll be expected to make a lot of far-reaching choices that you might not fully understand as you're making them, and this will be the first one.
My personal take on using the Wealth Affiliate Site Rubix is that it is a good option for beginners looking to get their feet wet. I know when I first started my first website (this one) it was pretty scary and I had to watch a bunch of YouTube videos just to get it live.
So the Rubix ecosystem gives you the confidence to launch a website and guides you step by step. However, if you are more technically inclined or if having more control over your property is important to you. I would recommend starting a website outside of the Wealthy Affiliate ecosystem.
However, for most beginners, Rubix is a great option as part of your membership includes website hosting. That's right, you don't have to worry about signing up with another hosting company as website hosting is free with Wealthy Affiliate.
MY WEALTHY AFFILIATE COMPLAINTS
Nothing is without it is flaws, and neither is Wealthy Affiliate. A common complaint is how difficult it is to do anything without buying Premium access.
As a Basic member, you're restricted in all sorts of ways, including attending certain classrooms that are marked "Premium". Also, you lose Live Chat access after 7 days of being a Basic member.
Another common point of contention is the amount of learning one needs to do. YES, THERE'S A LOT TO LEARN. Take this as a positive because when you're starting out you want to be a sponge and take in as much information as you can.
Lacks E-mail Marketing Strategy
Wealthy Affiliate touches on e-mail marketing briefly, but it lacks real in-depth discussion. E-mail marketing can simply not be overlooked and can generate people a lot of money just by sending e-mails!
Hit and Miss Customer Support
The quality of member support also varies wildly and you can often find yourself asking a simple question and getting a dozen of plausible but completely different answers.
Promotion of Review Articles
One of my biggest complaints with Wealthy Affiliate is that in their training, they encourage users to write reviews on other online marketing products in order to drive people to buy Wealthy Affiliate.
What ends up happening is people take this to mean that they must write negative review articles on competition so that they can encourage people to buy Wealthy Affiliate.
I think this is a bad look for Wealthy Affiliate, because even though they encourage people to write truthful reviews – the reviews turn out to be negative in nature and tend to exaggerate how good Wealthy Affiliate actually is.
No Real Backlinking Strategy
WA doesn't really teach you how to get links to your site, other than some very basic ones that involve Google. This is a real issue that I hope Wealthy Affiliate addresses this in the future.
No Real Content Strategy and No Real Direction
This is a big one – I see so many people start of with Wealthy Affiliate and have no clear sense of direction for their site. They post random articles all over the place and wonder why they don't get any traffic… Shit, I was 100% guilty of this too when I first started.
The big reason why nothing is ranking is because Google doesn't know what the hell your site is about. Is it about health and wellness, or is it about promoting Wealthy Affiliate? Google wants a clear guide of what your site is about, and if you make it hard for them, it won't rank.
This I believe is a problem not for the students who use this method, but a problem with how Wealthy Affiliate teaches and pushes their affiliate program.
WHAT DOES THE WEALTHY AFFILIATE TEACH?
WA is broken down into 5 certification courses, each designed to guide you through learning the basics of building a website and driving traffic to the website. Here is the breakdown:
Level 1: Online Entrepreneur Certification – A 10-lesson course that is part of the Wealthy Affiliate Online Entrepreneur Certification. It will walk you through the steps of creating a successful online business that generates revenue.
Level 2: Building Your Own Traffic Producing Website – 10 lesson training that walks you through no-cost traffic generation techniques that will allow you to capture highly relevant traffic in any niche.
Level 3: Making Money – 10 Training lessons that walk you through a number of ways you can earn money through your site.
check Level 4: Mastery Social Engagement – This course is dedicated to all aspects of social. From social media, social marketing, and social networks. Ultimately any success within the social world is the result of social engagement.
check Level 5: Achieving Maximum Success Through Content Creation – 10 lessons on creating high engagement through your content, effective techniques for boosting conversions, and scaling your content through proper goal setting and outsourcing.
All of these lessons are proven white-hat strategies for making a successful website. The focus in Wealthy Affiliate is on keyword research and creating engaging content that will rank you higher in search engines.
There are also many additional training lessons available that are made by other Wealthy Affiliate members, so it can sometimes be information overload when going through the training.
I recommend sticking to the official training modules at first and be careful for who you listen to in the forums.
HOW DOES WEALTHY AFFILIATE COMPARE TO AFFILIATE MARKETING COURSES?
To get a sense of real value WA offers you have to compare it to other courses on affiliate marketing. Thankfully over many YEARS of research, I have a good idea of what courses work and what courses are complete rip-offs.
So let's take a look at some affiliate marketing courses and see how they compare to Wealthy Affiliate.
Wealthy Affiliate vs Income School Project 24
Income School's Project 24 is made by Jim Harmer & Ricky Kesler who have a huge YouTube channel and Podcast, which I definitely recommend checking out.
Income School's Project 24 is a lot different from Wealthy Affiliate because it is a course only, and they don't provide website hosting.
Project 24 is comparable to Wealthy Affiliate as it made for beginners with not a lot of experience in online marketing. However, Project 24 is a more complete affiliate marketing course from Wealthy Affiliate as the course is constantly being updated and they give you a step by step blueprint to building a website over the course of 24 months.
Project 24 focuses on building affiliate sites on creating great content, but like Wealthy Affiliate, it ignores building links.
However, if you are just starting out and getting into a low competition niche, you will not have to build any links anyway.
Deadbeat Super Affiliate Vs Wealthy Affiliate
I loved Deadbeat Super Affiliate when I first started the course. It was engaging, funny and I felt it provided some solid actionable info. However, in 2019 Deadbeat Super Affiliate is a completely outdated course filled with shit that will get your site penalized.
Avoid the Deadbeat Super Affiliate at all costs if you were thinking about it.
SEO Affiliate Domination Vs Wealthy Affiliate
reg Jeffries SEO Affiliate Domination is quite a bit different from Wealthy Affiliate.
For one thing SEO Affiliate Domination focuses on back linking much more from Wealthy Affiliate. It also teaches more "gray hat" SEO techniques.
SEO Affiliate Domination also teaches techniques that can help you chose profitable niches and gain valuable insights which is a huge part of being successful in affiliate marketing.
However, SEO Affiliate Domination costs quite a bit more from Wealthy Affiliate at $97 per month for a year or a $997 one-time fee. Wealthy Affiliate costs $49 per month and comes with web hosting included.
If you are looking for an affiliate marketing course, I recommend Wealthy Affiliate Certification Program
IS WEALTHY AFFILIATE WORTH IT?
Wealthy Affiliate is a great stepping stone for beginners and people who already know more than some basics.
This is because Wealthy Affiliate is an all-in-one package. When you pay for your membership you pay for much more than just training. You pay for fast website hosting, a network of other affiliate marketers, updated training and keyword research tools.
So even if you don't find the training really mind-blowing, you get a good amount of value in your membership with website hosting and their keyword research tool.
ONE OF THE BIG KEYS TO SUCCESS: MINDSET
If you are looking at this Wealthy Affiliate review as a get-rich-quick scheme, stop right here and close the article. This isn't the right program for you.
I see a lot of people look at Wealthy Affiliate as the ultimate way to earn lots of money and quit their day job. While that is a good goal, you must have a realistic expectation going into the program.
Thank you for reading my reviews, if you do have any questions about my reviews, or you have any other questions relating to website creation and building or selling on online though affiliate marketing, please leave them below and I will be more than happy helping you out!
Your Friend
John J J
Founder